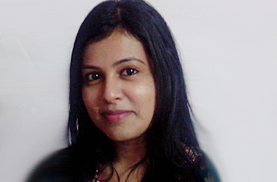 Supriti Mukherjee ( Class of 2011, IBS Mumbai)
I am honored to be given this opportunity to share my career and work experience so far. It wouldn't have been possible without the grooming we were given in IBS. I hold each of our faculty members with whom I have dealt with responsible for this success.
My career started with a campus recruitment with JP Morgan Chase, as a team member. Later moved to Credit Suisse as Associate Vice President, currently managing a team that looks into front office trades related to Special Purpose Vehicles, MIS reporting around the same and preparing US GAAP Disclosure Reports for Group Financial Statements Credit Suisse.
I have done my MBA in Finance from IBS Mumbai. I also did my CA Inter (Group 1 cleared) and B.Com. My family hails from Nagpur with my elder brother being a manager in Infosys (currently in Basel, Switzerland), father being a retired government senior geologist and mother a house wife..
Its very difficult to pick one out of so many, but given a choice I can recall the moment I was selected for Factset from our college for final placement rounds at Factset office.
It was like being in a family, away from family. Everything showcased to us was from the current market perspective and that helped in taking right decisions at the right time.
Hobbies : Singing
Favorite gadget and why : My Hard Disk, since I have a good collection of movies and I just love watching movies
Favorite Book : Wings of Fire
You can reach me at : mukherjee_supriti@yahoo.com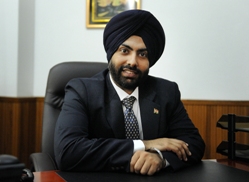 Mr. Jasmeet Singh Narula, Resident Representative, Exim Bank of India [IBS 2009-2011]
Presently, I am the Resident Representative of Export-Import Bank of India's Yangon Representative Office [Myanmar]. Export-Import Bank of India (Exim Bank) was set up in 1982 by an Act of Parliament for financing, facilitating and promoting India's foreign trade. It is the principal financial institution in the country for coordinating the working of institutions engaged in financing exports and imports. Exim Bank is fully owned by the Government of India.
With opening up of Myanmar's economy, a number of opportunities have emerged in the country. Exim Bank plays a catalytic role in enhancing bilateral trade and investment relations between India and Myanmar, while also supplementing the efforts of the Government of Myanmar in achieving its development objectives.
The Bank provides financial as well as value-added services to Indian exporters. Assistance is given to Export-Oriented Units (EOUs) by way of term loans in Indian rupees or foreign currencies for setting up new production facilities, expansion/modernization or up gradation of existing facilities and for acquisition of production equipment or technology. The Bank lays special emphasis on extension of Lines of Credit to overseas entities, national governments, regional financial institutions and commercial banks. The Bank also extends Buyers' credit and Suppliers' credit to finance and promote India's exports.
To promote hi-tech exports from India, the Bank has a lending programme to finance research and development activities of EOUs. The Bank has a Marketing Advisory Services Programme, to assist Indian companies in identification of prospective business partners, facilitating placement of final orders and also identification of opportunities for setting up plants or projects or for acquisition of companies overseas. The service is provided on a success fee basis. The Bank has put in place a Technology and Innovation Enhancement and Infrastructure Development Fund to meet foreign currency capital requirements of Indian exporters, especially SMEs.
Exim Bank supplements its financing programmes with a wide range of value-added information, advisory and support services, which enable exporters to evaluate international risks, exploit export opportunities and improve competitiveness, thereby helping them in their globalization efforts.
I have completed my schooling from the St. Joseph's Senior Secondary School, Kanpur. Thereafter I moved to Bidar [a district in Northern Karnataka], to pursue my Engineering in Electronics and Communication discipline. Post my graduation I worked with Dell International for two and a half years in Bangalore before moving to Mumbai.
My parents have retired from their services. My father Mr. Jagtaren Singh Narula worked with Hindustan Aeronautics Limited, Kanpur while my mother Smt. Surinder Kaur retired as a principal from Khalsa Girls Inter College, Kanpur. Education has been of prime importance in our family. I have two elder sisters. The eldest is an IITian and after working for 9 long years in the IT Sector she has now begun her entrepreneurial journey. The elder sister is also an engineer and an MBA. She is also employed in the IT Sector and settled in Solihull, UK.
Joining IBS was a good opportunity for me and I thoroughly enjoyed my time at IBS. There have been several occasions that can be my best moments. However, getting through Exim Bank was definitely the best moment at IBS.
After completion of my graduation, I tried clearing the interviews of Infosys, Wipro and other big IT Majors. However, I couldn't clear any. Thereafter, I joined BPO of Dell International at Bangalore. Joining BPO helped me improve my communication skills and gave a good understanding on how western countries outsource their business to India. All the skill sets acquired at DELL helped me during my MBA days.
As mentioned earlier, IBS came as a good opportunity to me and without a second thought I joined the Institute. Workload including making presentations, case studies, business games etc. combined with fun activities gave an immense confidence and in some way shaped my personality. Working in groups i.e. working with people is one of the most important lessons learnt in the college. The dedicated Professors and Staff left no stone unturned to assist us with our curriculum and placements. During 2009-10, the economy of India was struggling and no longer did I have a casual approach to this important macro issue [As an Engineer, I wouldn't have been able to understand about our economy]. Overall, I am thankful our Senior Advisor & Campus Head Professor YK Bhushan, Professors, Placement Cell, College Staff, Seniors and my batchmates whose guidance helped me reach this place.
First Job : Dell International Ltd.
Hobbies : Swimming, Calligraphy
Favorite gadget and why : IPAD: A very handy and easy to use device.
Favorite Book : The life of Pi, The Alchemist, The Glass Palace
You can reach me at : jasmeet.na@gmail.com