Array
Director's Message

Corporates in India now do recognize the importance of talented managers who give it the requisite muscle to compete. IBS Mumbai is one of the leading providers of quality Management Education in India and affords accessibility to Management education students. On a scale larger than others the school tries to help students realize their dreams and aspirations and provides students who were well prepared for management roles to corporate sector. It has been a leader in Management Education known for its successful record of placement , introduction of case method in management education and use of Information Technology in the teaching of the PGPM programme. It has earned a name for itself for focusing on student development through the 14 week student internship and a bouquet of a variety of activities meant to develop critical faculty, analytical skills, leadership skills and skills of communication and presentation.
Located in the enviable spacious campus in the great environs of Hiranandani Gardens in Powai in Mumbai. IBS Mumbai can be justly proud of the rankings that it has achieved among Management Schools in the country over the years. The school is specially proud of its cohesive faculty team with proven talent recognized through awards and positive student feedback. The support provided in all its activities by the administrative staff is again uncommon in many ways.
The growth of IBS Mumbai is a saga of development which gives us hope for future to realize our vision of becoming the 'Wharton of the East'.
Prof. Y.K Bhushan
Director
Placements and Corporate Relations
| | |
| --- | --- |
| Placements Class of 2018 | |
| Students (Nos.) | 784 |
| Placements | |
| On Campus | 95% |
| Average Salary | 6.29 |
| Highest Salary | |
| National | 12.00 |
| International | 22.36 |
| Average Salary *(Top 10%) | 10.76 |
| Average Salary* (Top 25%) | 8.71 |
| Recruiters | 246 |
| * in lakhs | |

Top 10 Recruiters

HDFC Bank
ICICI Securities
Indiabulls Housing Finance
ICICI Bank
Deloitte Tax Services
Tata AIG General Insurance
Capital First
LODHA Group
ICICI PRUDENTIAL LIFE INSURANCE
Kotak Mahindra Prime Ltd.
ACURIS
ANAROCK
Landmark Insurance
Naukri.com

A Partial List of Recruiters

3i Infotech Ltd.
99 Acres.com
ABC Consultants- Headhonchos
ABIBL
Adfactors Pr Pvt. Ltd.
Ajmera Realty
Al Bandar International House for Trading Co
Altor
American Express
Anil Industries Katni Pvt Ltd.
Arvind Brands
Ashvin Gidwani Productions [AGP]
Asian Business Exhibition and Conference Ltd.
Asian Paints
Avalon Global Research
Axience Consulting Pvt. Ltd
Ayukrt Innovations
Bharti Airtel Services
Bharti AXA Life Insurance Company Limited
Birla Sun Life Asset Management Company
Capital First
Cars24.com
CB Richard Ellis
check little
Chillr
CNK India
Coffee Day Group
Comet Hawk Pvt. Ltd.
Compuage Infocom Limited
Credence Integrated Marketing Pvt Ltd
Crisil (Irevna)
CROMA
Deloitte Consulting
Deloitte Shared Services India P Ltd.
Deloitte Touche Tohmatsu
DHL Express(I) Pvt. Ltd.
Eagle Security & Personnel Service
engage4more
Erotas Silver Jewelry
Fazlani Altius Business School
Financial Technologies Group of Companies
Finman Capital
Franchise India Brands Ltd
Futurestep (KornFerry)
GfK Mode
GLOTRIP HOSPITALITY INDIA
Grofers
Grohe India Ltd.
HDFC Bank
HDFC Ergo Life Insurance
HGS International Services Private Ltd.
Hind Media Solutions Pvt Ltd
Hinduja Global Solutions
Hiranandani Communities
Home First Finance India Pvt. Ltd.
ICICI Bank
ICICI PRUDENTIAL LIFE INSURANCE COMPANY
ICICI Securities
IFA Global [India Forex Advisors]
iGate Patni
Indiabulls Real Estate
Indiabulls Securities Ltd.
Indra Prints
Integreon Managed Solutions [I] Pvt. Ltd.
J K Tyre & Industries Ltd.
J.P. Morgan Chase
Janalakshmi Financial Services
JARO Education
JustDial

Kanakia Spaces
Kotak Life Insurance Co. Ltd.
Kotak Mahindra Bank
Kotak Securities
KPIT Cummins
L&T Realty
Landmark Insurance
Liberty Videocon Insurance Co. Ltd.
MagicBricks.com
Magicrete Building Solutions Pvt. Ltd.
Mahindra Finance
Markelytics
Maruti Fashion
Mecklai Financial Services
Mount Hill Realty
Muleshwar Financial Services
National Payments Corporation of India
Naukri.com
Nestle
Nielson India
Options Group
People Metrics
Pharmeasy
PNB Housing Finance
PNP Polytex Pvt. Ltd
PSTakeCare
PurplKite Innovations (Voltaire Leasing & Finance Ltd.)
Ranco Energy Group
Reckitt Benckiser
Reliance Life Insurance
Reliance Money Solutions
Resource Bridge
RJ Capital Services Pvt. Ltd.
RxPlus
Satguru Travels
SBI Life Insurance Co. Ltd.
SBM Bank (Mauritius) Ltd
Shoppers Stop
Shrenuj
SLEEK
Solomon Enterprises
Square Off Sports
SS&C GLOBEOP
Standard Chartered Bank
Suryoday Micro Finance
Swastik Tiles
Syntel
Sytel Inc.
Tata AIG General Insurance
TATA Trent
TCS
Team Wellwishers
Tech Mahindra
Tech Mahindra Growth Factories
Thinking Hats Consumer Insights
Third Sector Partners
Thomas Assessments
Transparency Market Research
Transparent Value
Trimax IT Infrastructure & Services Limited.,
Trisys Communications
Universal Sompo General Insurance
UpGrad
Vito India Advisors
Vodafone
Wonderchef Home Appliances Pvt. Ltd
Zoomot Services
Zupermeal
Zycus Infotech
Rankings
20th by Business Today
'A++' by Business India
'A4' by Business Standard
6th among Top B-Schools and ranked 3rd in West zone – Silicon India
6th among Top emerging B-Schools of Super Excellence – CSR-GHRDC
7th among Top B-Schools in West zone – Careers 360
IBS Mumbai distinguishes itself by the quality of the leaders it produces. Ranked among the top 5 business schools in the Western region, IBS Mumbai was established in 1995 to promote quality management education, research, training and consulting.
Infrastructure & Facilities
80,000 sq.ft. campus with 15 class rooms on two floors, 225 seater auditorium, faculty cabins, separate common rooms for boys and girls, a gym and three syndicate rooms for student faculty interaction. It has two large conference rooms and foyer.
A library with an extensive collection of over 28,000 books, 13 International and 92 National journals and magazines and more than 2,000 CDs. It subscribes to 8 major online databases.
Initiatives
Student Activities:

Parivartan-The student body for social change.
A national management event (Konflux) is organized every year, where teams from B-schools from all over India participate.
Some Unique Initiatives:

IBS-Venture academy in collaboration with University of Essex, UK
"Dimensions", the Journal of Management of IBS Mumbai
HDFC Joint Certification Program for placement
Director's Profile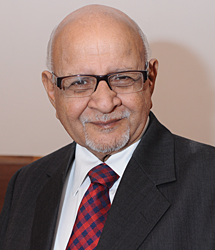 Prof. Y.K.Bhushan has been the Senior Advisor & Campus Head of IBS Mumbai for over 10 years. He holds M.Com Degree from Delhi University, MBA from Indiana University, USA, earned on the coveted and competitive Fulbright Fellowship, and Certificate in Research Methodology from Institute of Economic Growth Delhi.
He has been in the field of Education and HRD for 59 years starting 1957. He taught at Shri Ram College of Commerce in Delhi for over 13 years. He was a Senior Professor at Vaikunth Mehta National Institute of Cooperative Management Pune for two years and took over as the Principal of S.P. Bankers Training College of Central Bank and Dena Bank and served there for 10 years. Prof. Bhushan was Assistant General Manager HR in the central office of Central Bank of India for two years.
He moved over to Management Education at the MBA & Doctoral level as the Director of Narsee Monjee Institute of Management Studies for sixteen years and as Director General for two years raising NMIMS to a level where it could become a deemed University.
In 2002 he took over as the Senior Advisor & Campus Head at IBS Mumbai. He has served concurrently as the Vice Chancellor of ICFAI University in Meghalaya and has been appointed as the Chancellor of ICFAI University, Nagaland by the Governor of Nagaland. He is also the Chairman of Federation of Universities of ICFAI and Chairman of ICFAI Alumni Federation.
As a Senior leader in the field of Management Education he has been the President of Indian Society for Training & Development, Association of Indian Management Schools (AIMS) and of Association of Management Development Institutions in South Asia (AMDISA). He is President Emeritus of ISTD, Ravi Mathai Fellow of AIMS and is currently the Chairman of SAQS Council (South Asian Quality Systems) of AMDISA. He is the Honorary fellow of Indian Institute of Banking and Finance, ISTD and Institute of Management Consultants of India.
As a trainer Prof Bhushan, was involved with over hundred companies in Training and Management Development Programs. On the international front Prof. Bhushan forged a link between NMMIS and Sterling University in UK and has participated in all Global Management conferences held every four years. He is also a Senior Enterprise Fellow of University of Essex, UK and has served the Fulbright Foundation on their selection panels. For 2 years,he was the President of Fulbright Association of Mumbai.
Prof Bhushan has authored over a dozen books in Commerce and Management. He is particularly reputed for his first book on "Fundamentals of Business Organization and Management" which is now into its 50th year of publication. He has also brought out his collection of papers on Entrepreneurship, titled "People, Technology and Entrepreneurship".
Having spent over three decades directly in MBA level Management Education,Prof. Bhushan has been honored with several Life Time Achievement Awards and was the recipient of the prestigious 'Qimpro Quality Award' and ET award for 'Legendary Contribution to Education'.
On Teachers day September 2015 Narsee Monjee Institute of Management Studies honored Prof. Bhushan by naming their main Library in the School of Business Management as "Prof. Y.K. Bhushan Information and Knowledge Resource Centre".
Prof Bhushan was a member of Academic Council of Mumbai University and served on the Board for Management Education of AICTE.He has been a member of the Governing Board of Indian Institute of Banking and Finance for over 16 years.
Prof. Bhushan has been a guide to many Research Scholars for Ph.D at Mumbai University and an evaluator in some other renowned universities.
Prof. Bhushan
Senior Advisor & Campus Head, IBS Mumbai

dirmum@ibsindia.org

022-40434343
Faculty Profiles
IBS Mumbai Faculty Profiles
Name
Qualification
Specialization
Experience
Teaching
Industry
Research
Tanushree Mazumdar,
Adjunct Faculty Member

M.A. (Economics),PhD (Economics)

Economics
10
9
PROF. CMA ARUN DINUBHAI CHANDARAN,
Faculty Member

PROF. CMA ARUN DINUBHAI CHANDARANA is a Fellow Cost & Management Accountant, Certified Associate of `The Indian Institute of Banking & Finance', Masters in Commerce (2nd Rank holder)

Banking
33
23
Dr. Vanita Joshi,
Faculty Member

Ph.D.(Management), PGDOM, MBA, B.Sc.(PCM)

IT & Systems
18
1
Ms Juhi Ranjan ,
Faculty Member

PGDM(PM&HRD), MPM

HRM
16
3
Mr. Sanjay Katira,
Adjunct Faculty

Qualified Chartered Accountant and Management Graduate from Welingkar Institute of Management studies & Research

Business Strategy
3
20
Parul Shah,
Adjunct Faculty

Chartered Accountant from the Institute Of Chartered Accountants Of India,PGD Advertising and Public Relations from K.C college of Management Studies,Bachelor of Commerce from Mumbai University

Accounting & Finance
3
20
Arijit Bhattacharya,
Faculty

MSc, PGDBM. Pursuing PhD in Management from Narsee Monjee Institute of Management Studies, Mumbai.

Marketing
8
12
Dr. Harshita Kumar,
Faculty Member

Management with major specialization in Marketing,PhD.

Marketing
6
4
Prof.Kedar Dunakhe,
Faculty Member

Certified as 'Retail Trainer' by Shoppers' Stop for their

'Diploma in Fashion Retail Management'

Marketing
2
7
Prof.Shobha Pillai,
Adjunct Faculty

Masters in Computer Application and B.Sc. Mathematics degree.

IT & Systems
2
19
Prof. Makarand Bhopatkar,
Adjunct Faculty Member

Financial Risk Manager Certification from GARP,Certificate in Quantitative Finance from CQF Institute, UK,C F A from CFA Institute, USA,C F A from ICFAI, India.

17
15
Prof. Shashi Gupta,
Adjunct Faculty Member

MDBA in personnel management,Bachelor's degree in education, Masters in Sciences,Post graduate diploma in training and development from ISTD, Delhi.

Soft Skills
34
9
Prof Neha Sajnani,
Adjunct Faculty Member

BCom, LLB, LLM.

Business Law
10
9
Dr. Roopali Srivastava ,
Adjunct Faculty

Ph.D. in "Microelectronics.

Operations
10
10
Dr. Chandravadhan Goritiyal,
Adjunct Faculty

Ph.D. and MFM degree in Finance.

Operations
23
23
Prof. Mayank Ranjan,
Faculty Member

BBA,MBA,M.Phil,Pursuing Ph. D.

Marketing
0
0
Prof. Y K Bhushan,
Chief Advisor

MBA (Indiana University, Bloomington, USA), MCom, Certificate in Research Methodology



HRM
67
2
0
Prof. Prakash Kamalakant Pandit,
Faculty Member

B.Tech (IIT - B), MBA (IIM - C)

Marketing
11
20
0
Prof. Mohandas K Nair,
Adjunct Faculty

MS(IPM, Mumbai), B.Tech(IIT-K), D.T&D

Soft Skills
23
25
0
Dr. Davinder Kaur Suri,
Associate Dean & Dy ACO

B.com, M.M.S. (Finance).PhD

Economics
13
7
1
Prof. Kavitha Venkatachari,
Dean (Examinations)

MBA, M.Phil, MCA

IT & Systems
16
2
0
Prof. R Krishnan,
Faculty Member

PGDM, B.Tech

QM & BRM
17
25
0
Prof. Rajini Anand,
Faculty Member

MFM,B.Com,DHRM(Pursuing)

Soft Skills
15
3
0
Dr. Rita Rangnekar ,
Dean IBACO & IBSAF Coordinator

PhD, MA, DIRPM, Dip.T&D (ISTD,NewDelhi)

OB, HRM & Soft Skills
18
18
0
Prof. Swaha Shome,
Adjunct Faculty


M.Sc

Economics
35
0
0
Dr. Rachna Sharma,
Associate Dean & Dy ACO

MA, DIHRD, BA(Hons), PhD.

Soft Skills
18
0
0
Prof. Naisha Pravin Sujan,
Adjunct Faculty

PGDM – FINANCE

Finance
10
3
0
Dr. Pritee Sanjeev Saxena,
Director

MMM, MSc, PhD.

Marketing
13
15
0
Dr.Deepika Dabke,
Associate Dean, SDCC

Ph.D (PSYCHOLOGY), PGDHRM , NET/SET, M.A. (COUNSELLING PSYCHOLOGY)

OB & HRM
9
13
0
Prof. Tapas Kumar Das,
Faculty Member

M.A. MBA

HRM & OB
6
22
0
Prof. Amarjeet S Patpatia,
Dean and Deputy PCO

MBA, M.Com, P.G. Diploma Training & Development (ISTD)

Marketing
8
12
0
Prof. Hemant Purandare,
Deputy Director ( Academics)

BE – Civil, MMM

Marketing
10
21
Prof. Sarika Rachuri,
Faculty Member

MA, M Phil (Economics)

Economics
13
6
Dr. Anil Mahajan,
Faculty Member

M.Com, FCA, PhD.

Finance
20
4
Prof. Madhu Iyengar,
Associate Dean & Deputy PCO


CMA, FCMA, M.Com

Finance
18
7
Prof. Nitin Bolinjkar,
Faculty Member


B.E, MBA

IT & Systems
7
14
Dr. Rajinder S. Aurora,
Faculty Member

M.COM,MFM,DHE,UGC-NET,PHD

Finance
5
0
Dr.Dimple Pandey,
Faculty

MBA (Finance), BE

PhD in Management

Finance
9
4
Prof. Swapna Tamhankar ,
Faculty

MMS, B. Sc., UGC NET

Quantitative Methods & BRM
9
2
Prof. Priyanka Dhingra,
Faculty

MBA (Finance), B.Sc

Marketing
14
8
Prof.Silpy Gupta,
Faculty

PhD (Pursuing), MBA, Dip. T&D, B.Sc

OB & HRM
14
7
Alumni Profiles
Parag Jain | Class of 2001 | IBS Mumbai
Parag is an alumnus from the Class of 2001 of IBS Mumbai. He completed Bachelor Degree in commerce before joining IBS. He is at present working with ADVENTITY BPO FZ LLC as a Vice President and is based at Dubai. He has been associated with Network International as Sr. Project Manager and prior to that he was working for Emirates Bank.
Pooja Awasthi | Class of 2004 | IBS Mumbai
Pooja is an alumna of Class of 2004 of IBS Mumbai. She completed her Bachelor Degree in Business Management before pursuing Management education from IBS. Currently she is employed as Relationship Manager with Anand Rathi, one of the biggest Stock Broking organizations of the country. She is presently based in Mumbai, the Business Capital of India.
Alumni Located across the World
IBS Alumni are working in over 900 blue chip companies and are spread out across the World.