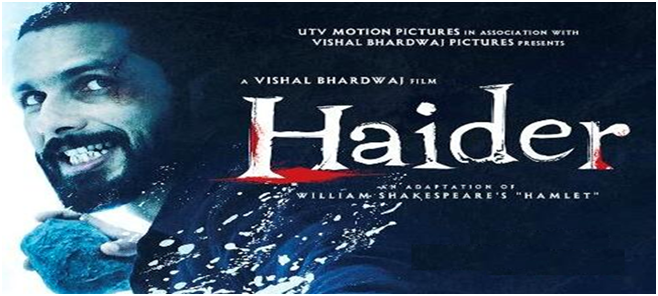 Review ... Haider

Pranshu Awasthi
Vishal Bhardhwaj`s HAIDER is an official adaptation of Shakespear`s play HAMLET, which is arguably the most complex and the world`s most filmed story after Cinderella and another book on Kashmir militancy called CURFEWED NIGHT.
'Haider' is set against the breathtaking and dreadful backdrop of 1994 Kashmir. At the outset, it is imperative to make you aware that the film`s screenwriter, Indian journalist Basharat Peer (Author, Curfewed Night) is also a Kashmiri . This becomes clearly evident when the film takes off and mesmerizes the audience with unadulterated and up-close visuals of the 'real' Kashmir - 'the crackdown, the encounters, the sinister atmosphere etc.' contrary to Bollywood`s fetish for the customary Dal Lake, flower beds and meadow slopes.
However, as the film progresses, the seemingly straightforward narrative abruptly transforms into a convoluted mishmash- courtesy an ineffective re-imagination of an already complex epic . Soon after 45 minutes of an absorbing extravaganza, this reviewer got disinterested in the events that unfolded thereafter to the point of getting utterly bored.
The main culprits were: a flawed screenplay, few unwanted songs and some lengthy & editable sequences, which resulted in forgone entertainment value. The Performances, 'Bismil' Song Choreography and Cinematography are the film`s strongest points. Shahid Kapoor plays the titular protagonist with sincere realism. Tabu was born to play the role of an unprincipled mother-in-distress.
The extremely underrated K.K.Menon effortlessly plays the devious antagonist with finesse. Sadly, all this is eventually overshadowed by a lackluster screenplay. The outcome of fusing 'Hamlet' with 'Curfewed Night' was an uninteresting viewing experience for this reviewer.
My Verdict: A heart-breaking 6/10!
Duration: 2 hrs 42 mins
Director:Vishal Bhardwaj
Cast: Shahid Kapoor, Tabu, K.K.Menon, Shraddha Kapoor, Irrfan Khan

Pranshu Awasthi
Batch - 2007
Campus - IBS Gurgaon
Next: Campus collection